Miranda 535 Massage
Best in Asian Relaxation Therapy
Miranda Massage at 535 Kingsway provides the best in Asian Relaxation Massage, with masseuses from China, Korea and Taiwan. Located just a few minutes walk east from Westfield and across the road, we look forward to taking the stress out of your life with some soft or firm muscle work. Open 7 days 10am to 7:30pm, we invite you to drop in and see if your favourite type of masseuse is here - no obligation. Our girls are keen to please. Look for the green signage at the door - there are a few shops along the road - we are closest to Cronulla. Did we mention the green signage?
Miranda Massage - 535 Kingsway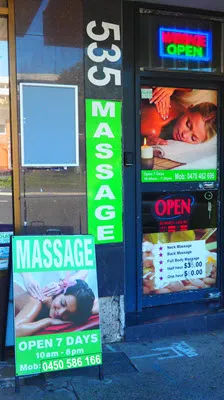 Find Miranda Massage at 535 Kingsway, Miranda NSW 2208 - click the link for navigation. We are opposite Miranda Fair, but towards the Cronulla end of the shops. Look for the green signage. We are open 10am - 7:30pm 7 Days, including holidays. We are close by to Miranda, Caringbah, Gymea, Woolooware, Cronulla and Sylvania.
For appointments of enquiries, call 0450 586 166 - click to direct dial on mobile phones.
Prices for full-body massage as follows. We only accept cash.
30 minutes - $40
45 minutes - $50
60 minutes - $60
90 minutes - $90
We offer relaxation & remedial Massage, as well as reflexology foot massage. Our staff feature attractive and shapely Chinese, Thai and Japanese masseuses.
There is 1 hour parking at the door, or plenty to be found around the corner on Kiora Road. Public transport is handy, with the railway station just a 5 minute walk, and bus stops close by to both Cronulla and Sutherland.
The shop is neat and tidy, with toilet facilities. 







Best Miranda Massage
We aim to be the best in Miranda by focusing on staff, comfort and reliability of service. If you are looking for the best in relaxation massage in Miranda, try us out. We are not so far from Caringbah, Cronulla, Gymea and Sylvania.
Open 7 Days late to 9:00pm.